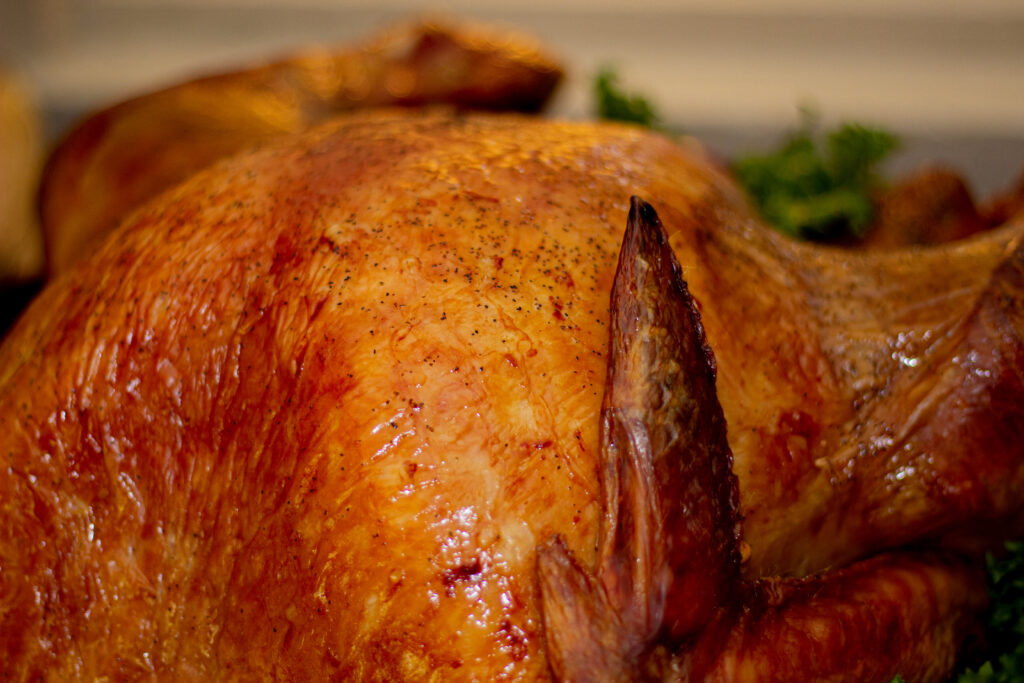 Stroudsmoor Country Inn looks forward to celebrating another holiday season with its dedicated clientele, and, as always, we're kicking off the season with our festive Thanksgiving Day Grand Buffet. With seatings at The Moor: Stroudsmoor's Restaurant and also at our largest event venue Terraview, we are thrilled to treat our guests to a warm, hearty meal of Roast Vermont Turkey, Mrs. P's iconic Sausage Stuffing, and her smooth and delicious Turkey Gravy, as well as a diverse combination of other Thanksgiving favorites and Stroudsmoor signature dishes alike.
This year, however, is extra special as we're celebrating our milestone 40th Thanksgiving celebration. In honor of that, we're reflecting on The Inn's very First Thanksgiving, which has since grown exponentially in attendance.
How Stroudsmoor's Annual Feast Has Grown — By the Numbers
The first Pirone Family Thanksgiving at the Inn looked much different from the large number of guests we plan to welcome to our tables this November. Annually, our staff accommodates hundreds of clients, both returning and new, at The Moor and Terraview. 
In fact, in preparation for this year's guests alone, The Moor's newest Executive Chef, Brandon Otto, has ordered more than 700 pounds of seasonal poultry—and that's just the main course! That doesn't take into account all of the staple holiday accompaniments that adorn our buffets each year. 
In comparison, our first Thanksgiving unfolded on a much smaller scale. Linda Pirone Forte, one of the three beloved Pirone sisters that have helped build and maintain Stroudsmoor's reputation for legendary hospitality and top-tier dining, shared what their first Stroudsmoor Thanksgiving was like.
"In the staff dining room by a small fireplace of the once 'Christian Hotel' called the Highland Dell Inn is where we set our first holiday table at Stroudsmoor Country Inn," she recalled.
The family set the table with Mrs. Pirone's own china while Linda provided the silverware that she and her husband Andy received as a gift at their wedding. 
Recalling the table's adornments, the longtime businesswoman and Director of Event Operations said that (like always) Mrs. P's Sausage Stuffing accompanied their Thanksgiving turkey. Situated amid the roast turkey and signature stuffing was a beautiful hand-designed bouquet of flowers provided by Linda's younger sister Susan.
Another feature at Stroudsmoor's first Thanksgiving was Ripieno Carciofo (stuffed artichokes) which Linda said remains her sister ("the baby of the family") Barbara's personal holiday favorite. Made with Pecorino Romano cheese, Mrs. P's freshly-grated breadcrumbs, cloves of roasted garlic, a mix of Italian herbs, salt, pepper, and fresh parsley, the dish is baked and simmered until the artichoke leaves simply pull away.
Linda fondly remembers her sister Barbara sharing the heart of the artichoke with her as she felt, and still feels, it was "too much of a good thing." This was significant for Linda especially, she admitted, because she didn't like the leaves of the artichoke, and instead favored the heart. It was—and to this day continues to be—a perfect arrangement as Barbara prefers the artichoke leaves.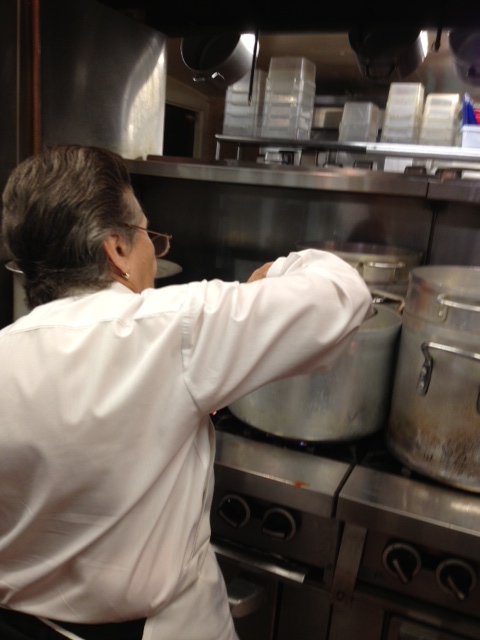 A Sweet Ending to a New Beginning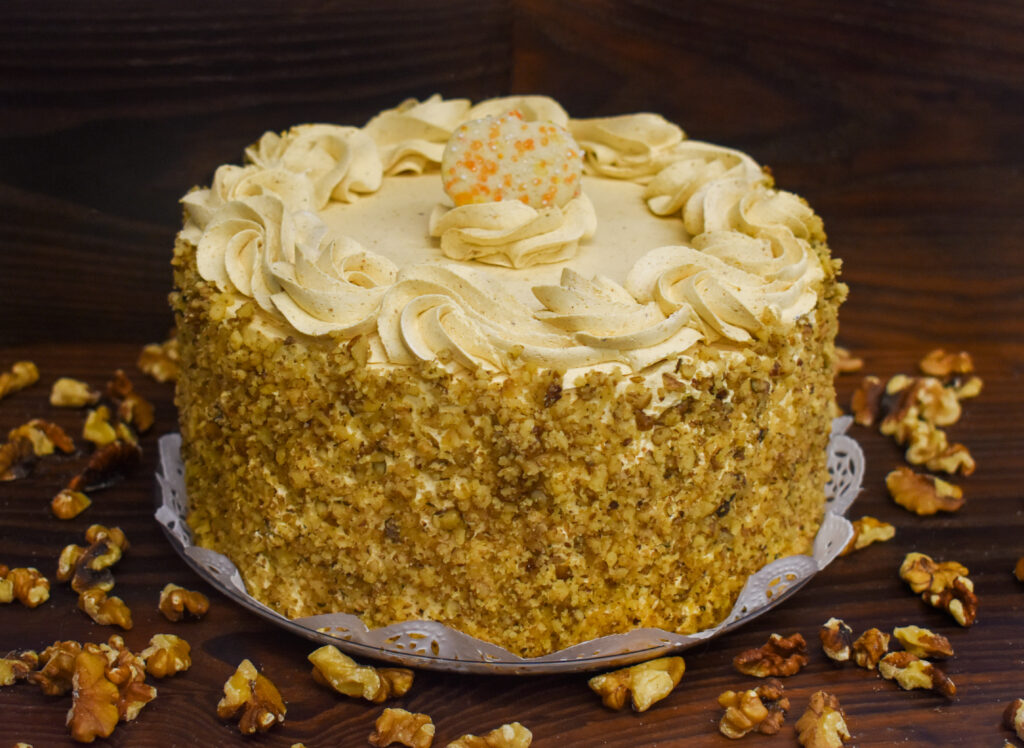 After enjoying the main course, it was on to dessert. And—just as you can expect from this year's Thanksgiving Grand Buffet—the Pirone table was complete with a spread of traditional holiday staples and family favorites alike. Traditional treats like apple and pumpkin pie contributed to dessert but one special treat was honey streusel cake, a beloved Italian treat, the recipe for which was passed down from the Pirone girls' Grandma Katherine.
At this year's celebration, on top of traditional holiday favorites, guests can expect to taste a plentiful selection of treats straight from the sweet-smelling kitchens of Stroudsmoor Bakery & Café, the brainchild of our DEO and our longtime Executive Baker Jessica Hicks. Jess has played a crucial role at Stroudsmoor since she first stepped foot in our kitchens in March of 1992.
Sweet creations crafted by Jess and the rest of the team at the Bakery will complete this year's Thanksgiving meal. Some of the special treats making an appearance at this year's Grand Buffet include old-fashioned bread pudding, apple cranberry cobbler, harvest spice cake (pictured), and chocolate pudding to name a few.
A Thank You to Our Devoted Clientele
With soon-to-be 40 years of Thanksgiving celebrations beneath our belt, we're fortunate enough to have built lasting relationships with countless guests. You can take a peek at what some of them have had to say about the Inn and our staff in the past:
"We wanted to thank everyone at the Stroudsmoor Inn for the perfect Thanksgiving. It was our first visit to the Inn, but it won't be our last.
First, the food was excellent and I mean all of it. As my husband said, there wasn't anything he tried that he didn't like, and I'd concur. Second, the service was attentive and mannerly. Making sure that we had everything we needed, no rushing us, and making us feel special.  Third the atmosphere was homey and inviting. 
We hope that everyone at the Stroudsmoor Inn has a happy Thanksgiving and holiday season. Thank you for such a lovely evening. You all exceeded our expectations."
"Hello Stroudsmoor folks,
We stayed there at Thanksgiving for the first time and it was fantastic!  I have recommended your place to many people…I just wanted to let you know that on a very busy evening (Thanksgiving) we had a waiter that went above and beyond expectations.  My daughter doesn't eat any meat or cheese…He noticed that she was just eating salad and fruit…Asked her if he could bring her a hot vegan entrée from the kitchen…He did and it was amazing!  She loved it.  His name was Ryan and I even gave him a hug when I left as he made her night.  She drove all the way from Syracuse to meet us and had to drive back that night, so her experience was really important to the whole family…Please tell his manager! He is a keeper!"