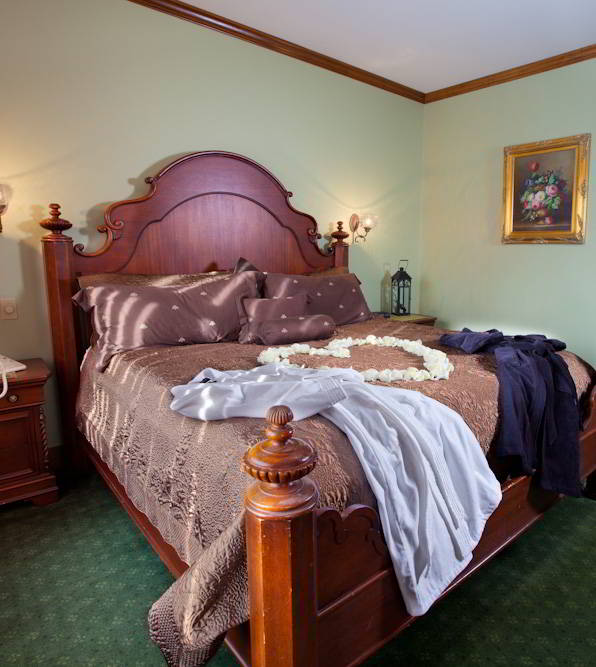 Escape and Indulge in the Crisp Mountain Air.​ Honored with the "Loved By Guests" Award from Hotels.com and Regarded as one of the best places to stay in the Poconos for families and couples alike!
If you are looking for a romantic weekend getaway, the Stroudsmoor Country Inn is the perfect spot. This resort, restaurant, and spa is located in the Pocono Mountains of Pennsylvania. The inn has been in business since 1984 and offers a variety of accommodations, including rooms in the main inn building, cottages, and cabins. There is also a restaurant on-site, as well as a spa.
The Stroudsmoor Difference
Nestled in the beautiful Pocono Mountains of Pennsylvania
Stroudsmoor is regarded as one of the Pocono region's premiere resorts. Ranked as one of the top-rated hotels in the Poconos, PA, the Inn features six dedicated event and wedding facilities replete with panoramic views, old-world charm and elegance. Stroudsmoor Country Inn is set atop its own 200-acre mountain overlooking Pennsylvania and the nation's newest 30,000 acre wildlife sanctuary, Cherry Valley National Wildlife Refuge.
Horse-back riding through the mountains, outings on the majestic Delaware River, hiking and biking along the Appalachian Trail, pleasant rounds of golf, and skiing or boarding down Camelback or Shawnee Mountains are some of the many activities nearby the Inn to enhance your mountain getaway, romantic interlude or grand wedding celebration.
Award-Winning Boutique Resort
"Really cool experience to attend a half Indian/Christian wedding here. The views were spectacular! Great food and the bartenders were really cool and attentive. I would recommend this place to anyone looking for a memorable spot to have a wedding. It was like you were on..."
"My husband and I visited the inn this past weekend for my best friends wedding! I was actually in the wedding so I met a lot of staff throughout the entire weekend. From check in to check out there wasn't a single staff member who wasn't kind, beyond friendly, and..."
"My wife and I had Easter Sunday brunch. The buffet was extensive with so many variety options. All of the food was delicious in a very relaxed atmosphere. The staff and service was great. Always a great time with really good food. A wonderful Easter day in these very trying..."
"Excellent food!! Everything was delicious. Waitress was super sweet & really on top of everything. The front desk girl was a bit rude & rolled her eyes at us but everything else was completely wonderful so still giving 5 stars."
What is a Boutique Resort?
Intimate, individualized, inspirational – one-of-a-kind, exceptional, and distinctive – all terms to describe what a Boutique Resort aspires to be. Stroudsmoor, after nearly 40-years in business under the direction of the Pirone family, has achieved the title of Boutique Resort.
Stroudsmoor's rich history is built on the property's many stunning vistas, amenities from stock to striking, award-winning staff, historic and history-inspired venues and the varied vintage-chic guest accommodations offered to travelers and event guests. Seated high atop the Pocono Mountain Range overlooking Cherry Valley Wildlife Refuge, Stroudsmoor transports guests to a time when simple pleasures like watching the leaves turn, feeling a gentle breeze and warm sunshine, and connecting with Mother Earth, family, and friends were most important.
In addition to all these glorious pleasures, the Inn also offers fine dining, spa and salon services, fitness and relaxation facilities, technology, fine art, and old-world hospitality, combined with charm and refinement cultivated by decades of hospitality experience.
Save the Date: Upcoming Events and Special Occasions
Get the Inside Scoop: Recipes, Culture, Poconos Resort Insights, and More