The Thanksgiving Grand Buffet
There is nothing like the gathering of family and friends around the Thanksgiving Table . . . nothing like the amount of work it takes to prepare the house, cook the meal and clean-up after the day is done!
Let Stroudsmoor take the work and worry out of your Thanksgiving celebration.
Thanksgiving Grand Buffet

$50.95 per person

Served at the Main Inn | We seat for the buffet from Noon to 7:30 p.m. on Thanksgiving Day
Tax and gratuity not included — Children under 10 are half price.
Stroudsmoor's Thanksgiving holiday feast includes a Harvest Table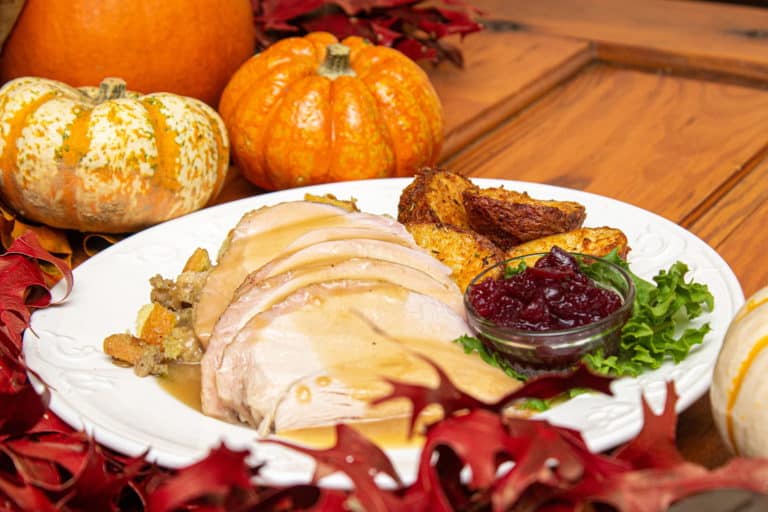 Festive Salads
Vegan/Vegetarian Fare
Seafood
Homemade Relishes
Country-style Chowders
Baskets of freshly baked Muffins, Sweet and Savory Breads
Enjoy the Fisherman's Table
Featuring SCI Seafood Salad
Tuna Caper Salad
Smoked Fish and Salmon
Mussels with Fennel & Sausage
Not to mention . . . mountains of succulent SHRIMP
This is just the beginning of the holiday feast, as the Main Buffet awaits featuring these classic favorites
Smoked Loin of Pork
Flounder Neptune . . . white filet filled with our crab stuffing
Fresh Herb Stuffed Breast of Chicken
Long-Island Roasted Duck
On the carving boards
Prime Ribs of Beef
and of course Roast Vermont Turkey
Served with all the trimmings
Candied Sweet Potatoes
Stroudsmoor's own Sausage Stuffing
Mashed Potatoes
Fresh Vegetables
Home-style Gravies
Vegan/Vegetarian Diets are accommodated with many of the buffet selections.
Our DESSERTS are as American as …
Mom's Apple Pie with ice cream of course!
Old-fashion Bread Pudding with Maple Syrup no doubt!
Pumpkin Pie with lots of whipped cream,
Apple Cranberry Cobbler, Harvest Spice Cake and more.
Traditional hot beverages accompany your dessert.
Your meal may be cooked to desired temperature; however, consuming raw or undercooked meats, fish, poultry, shellfish or eggs may increase your risk of food-borne illness.
Menu items may vary slightly based on product availability.
Dietary restrictions can be accommodated with advance notice.
Reservation and Information Requests 570-421-6431, Ext. 404 | info@stroudsmoor.com