Valentine's Day Celebrations
Stroudsmoor has hosted many a proposal, ring reveal, secret rendezvous, anniversary retreat and Valentine Wedding. The single most important element in each of these events is ROMANCE! Call our Director of Romance today and release the romance in your heart this Valentine's Day.
Our Valentine's Day Dinner features an elaborate buffet, a romantic atmosphere, and ways to enhance your dinner with "Romantic Touches" from chocolate-covered berries, to bouquets of flowers, to an overnight stay simply by calling 570-421-6431, Ext. 434.
Ready to make a reservation?
Call our Restaurant Concierge to Reserve your table!
(570) 421-6431 ext. 404
Your meal will start with Antipasto & Seafood Bar
Mountains of Shrimp, Mussels Fra Diavolo, Salmon, Calamari and other favorites
Freshly baked sweet, stone-ground wheat and semolina breads
An assortment of prepared salads like Artichoke & Mushrooms or Mozzarella & Tomato
Imported cheeses
Hearty soup
Fresh fruit and garden greens with all the trimmings
Pasta with aged cheeses and innovative sauces
Lobster Tail
Crab Legs
Risotto Milanese
Stuffed Chicken Breast
Steamed Clams
Roasted Duck with a Grand-Marnier Cordon Rouge Glaze
Vegetarian Stuffed Mushrooms
Chef's Choice of either Prime Rib or Tenderloin of Beef
Bake Virginia Ham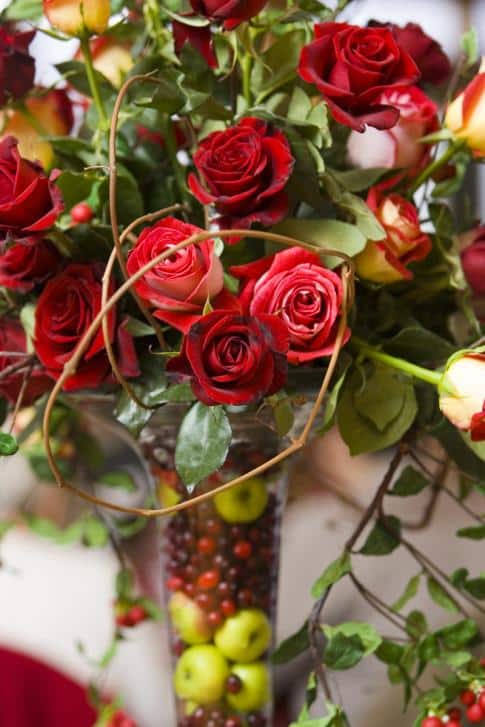 The beef selection is complemented by Baked Ham
The entrée selections will be accompanied by complementary vegetables and starch.
Sweet Endings . . . Dessert
Choose from a scrumptious selection of Stroudsmoor confections served with traditional hot beverages.
Add a special touch to your dinner or weekend celebration with FLOWERS from the Stroudsmoor Floral & Décor Studio
Call 570-421-6431, Ext. 446
Celebrate Valentine's Day or a Romantic Weekend at the Inn
Arrange reservations for a romantic dinner or getaway package by calling our "Director of Romance" . . . 570-421-6431 Ext. 434