French, Fancy, Frilly or Food – Tulips are all of the above.
The primary ingredient is found in a floral cooler, not on the grocer's shelves.  The recipe for Tulipes Vertes et Perroquet is a grand mix of color and unexpected tastes. 
Let's begin by learning more about the unique ingredient in the recipe …
Although the parrot tulip grows in a wide variety of colors, Better Home & Gardens states the  flower actually earned its name from the shape of its bud. After the plant breaks through its bulb  and emerges from the ground, the soon-to-bloom bud grows to mimic the curved shape of a  parrot's beak, thus earning it its name. 
Once the bud bursts open, the beautiful though large and heavy blooms make it difficult to  withstand wind and rain. Therefore, experts recommend planting these unique tulips in well-lit  sheltered flower beds in order to keep them standing tall as long as possible.  
Further, though the parrot tulip itself is stunning, this group can be broken down even farther,  extending into a wide variety of parrot tulips. One interesting example includes the fringed or  Hamilton tulip, whose brightly colored petals boast—you guessed it!—fringes on their ends  which can be in the same color of the parent flower or an entirely different color. 
A second eye-catching variety of the parrot tulip is what's called the "Batalinii Tulip Red Hunter,"  or simply the Red Hunter. In comparison to the fringed tulip, the red hunter boasts smooth,  bright red petals that end in a point. They are a hardier variety of tulip as they are actually a kind  of wildflower. Therefore, they are better at withstanding harsh winds and rain and are ideal for  planting in flower beds and borders.
Like all tulips, they are perennials, returning to your garden each year like clockwork. They divide at their base, forming clumps of bulbs which add to your family of flowers every season. Remember to plant your bulbs in late fall, ensuring good bulb distancing of 6″ apart. They love the sun, so some hosta plants, also called plantain lilies, make for lovely companions to parrot tulips. The long slender stems of the tulip allow them to find a place in the sun above the hosta's varied leaf-types.
Fringed, twisted, or ruffled edges in a wide range of colors from red, violet, orange, pink, green, and near-black define the beauty of this flora masterpiece. For centuries, gifting tulips has been a sign of perfect or deep love. The Victorian era associated the flower with charity, while others felt its spring bloom meant rebirth. Colors played a big part in the meaning and gifting of tulips:
Yellow blooms mean a person is hopelessly in love with their partner – or given as a gesture to fill us with hope and happiness.
Red, as in most flowers, is a declaration of love – which frequently is followed by a proposal.
Pink shows caring, thoughtfulness and compassion – with an underlying meaning of affection.
White means rebirth, a sense of hope and renewal – often given as a sign of respect.
The ornately winged petals and a plethora of color combinations give the parrot tulip an overall sense of elegance, grace, and romance. Tulips are the flower representing 11-years of marriage – the start of a new decade of wedlock.
The following centerpiece was created for a wedding by Sarah Rose, Stroudsmoor's lead floral designer.  Sarah Rose is accredited by Flower School of New York and has studied abroad, shown here in Holland's tulip fields.
Incorporating Tulips Into Your Big Day
Though the parrot is a fascinating variation of tulip, the species overall makes for an insanely popular and absolutely stunning choice of bridal flower. Aside from their visual beauty, brides love to incorporate tulips into their bouquets due to the plant's physical qualities. Even after being cut, the flower continues to grow, promising vibrance throughout the length of your wedding day and in the days following. 
Take a look at the below bouquet curated by Stroudsmoor Country Inn's floral department. Though brightly colored roses take center stage in this particular bouquet, peachy orange tulips add variety and fullness to the  piece. Other featured flora and greenery include burgundy rubicon spray  roses, burgundy hypericum, burgundy mums, Leucadendron, cocculus, Italian ruscus, agonis, and salal.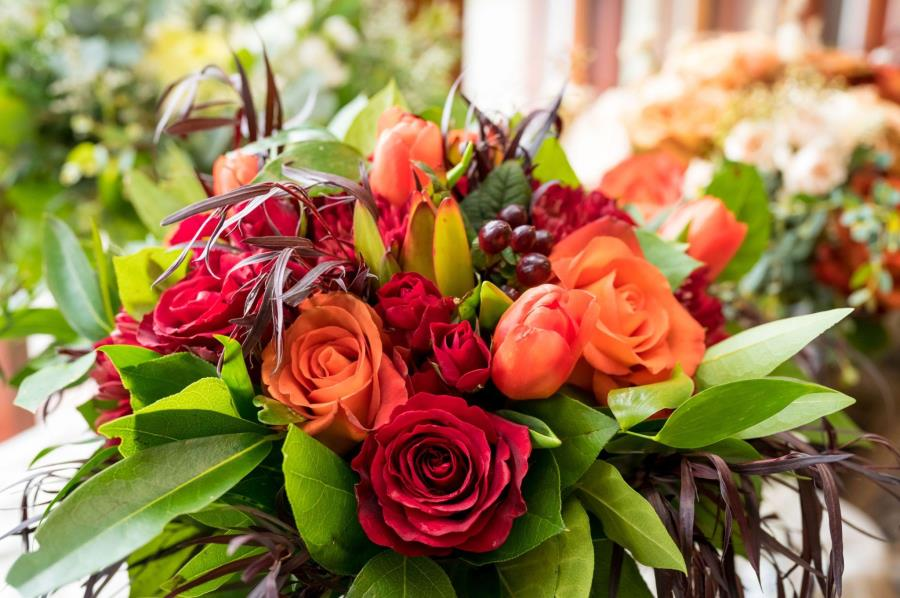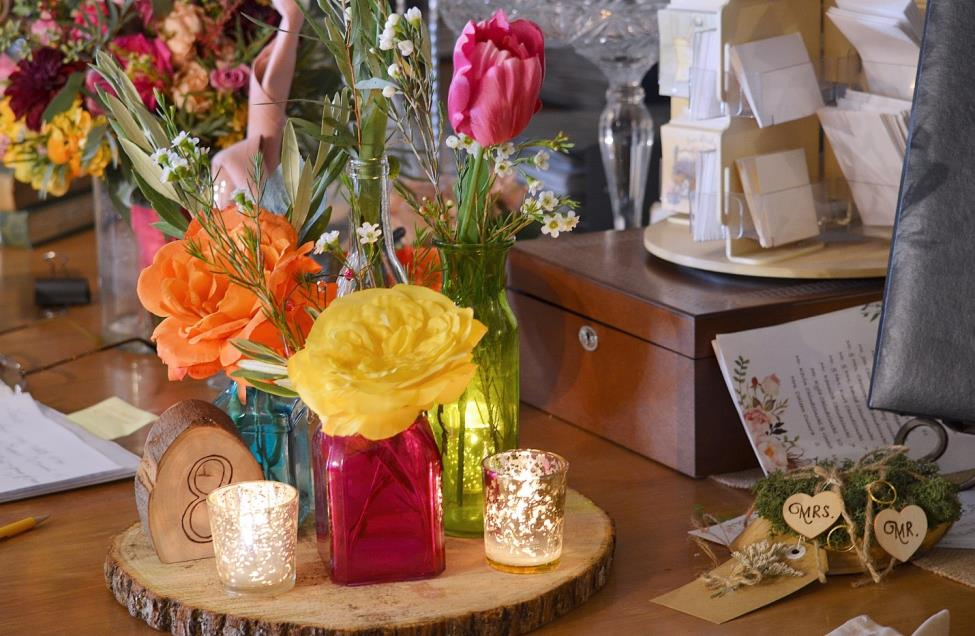 Stroudsmoor brides have also incorporated a variety of tulips into their decor as well as their bouquets. The following centerpiece puts an emphasis on color, not only in the simple variety of florals within the  vases but also via the color of the vases themselves. Large orange and  yellow roses ground the centerpiece, while a single frilled magenta tulip  gives the eye catching piece height. 
As if you needed another reason to include tulips among your special day, The Knot states the flowers are a popular bridal choice because, given the right conditions, they grow throughout many months of the year. This is largely in part because tulips come in a vast range of colors that all grow at different times of the year. Though most grow in the winter and spring, their extensive color palette means variations of different tulips can be located and incorporated into bridal bouquets all year long.
Pink Petalled Spring Bouquet
1dz. Pink Tulips

1dz. Blush Pink Tulips

¼ bunch Baby Blue Eucalyptus

½ bunch Salal or Lemon Leaf

8 branches of Pussy Willow – substitute curly willow if necessary due to season.

10 stems of White Veronica (This flower comes in several colors, so you could choose another to suit your table.)

Vase of your choice – bowl perimeter 5″

1 block of oasis – waterproof tape to hold the oasis inside the bowl of the vase
Cut and fit oasis inside vase bowl – ensure the oasis foam has been submerged in water rendering it went all the way through. Then tape it in place, making a cross from side to side.
Always place flowers first.
Insert the tulips symmetrically starting around the vase's perimeter – ending with those near the center slightly longer.
Insert the white Veronica in between the tulips creating a spiraling flow from top to bottom edge.
Now the greens will find their way to complementing the flowers. In this arrangement, the salal or lemon leaf is located around the lower edge of the arrangement, with a few branches tucked into the center. The Eucalyptus gives complement to the spiky nature of the Veronica.
Lastly, insert the branches of pussy willow as your eye determines they are needed.
Now that we have set your table let's dress your salad plate! 
Tulipes Vertes et Perroquet
A grand mix of color and unexpected tastes. 
During WWII, sadly, food was very scarce, so being innovative and courageous, Hollanders began to cook tulip bulbs in a soup.
4oz. Fresh Arugula
4oz. Fresh Baby Spinach
½ head of sturdy light lettuce like iceberg or romaine
1 Cucumber – thinly sliced and quartered. The skin on for added nutrients. If seeds are a medical concern, use the seedless English cucumber instead of the garden variety
1 stem fresh Basil – leaves whole to toss in flavor
6-12 tulips – colors of your choice. Picked from the stem and washed thoroughly
½ cup – roasted pine nuts or any nut you prefer – if you love nuts go heavier and don't be afraid to mix varieties
½ lb. – Soft Feta or another spreadable cheese of your choice
8 Crostini – homemade by Stroudsmoor Inn Towne Bakery or store-bought
Wash all leafy greens and tulip petals separately.
Slice cucumber – remember to go seedless if necessary. Use a mandolin to ensure an even thin slice is recommended.
Toss the arugula, spinach, and light leafy lettuce together – then add some of the sliced cucumber to the mix, leaving the tulip petals aside to place atop the mixed greens once on the plate.
Spread your crostini with cheese, top with sliced cucumber and basil leaves, and sprinkle with salt and pepper – 2 p/p.
Choose your plate wisely – based on the size of your table and the shape of your crostini – this one is rectangular, approximately 11″ long/5″ wide.
Dress your plant – starting at the bottom with the mixed greens and cucumber, garnish the top with the tulip petals, nuts of your choice, and Feta crumbles. Place your finished crostini on the plate in a balanced fashion.
Finally, see the recipe for Stroudsmoor's Balsamic Vinaigrette below – serve it on the side to allow guests to determine how much and to keep your flower petals from wilting.
Stroudsmoor's Balsamic Vinaigrette
Put all ingredients into the bowl of your mixer, except the oil.
Initially, blend at a slow speed, combining in the small oil amounts one at a time until all of the oil is in the mix.
Gradually, turn the mixer to a medium speed, allowing all ingredients to combine.
Store in an air-tight container in the refrigerator until ready to serve – transfer from container to dressing pitcher for the table. The vinaigrette will hold nicely in the fridge for 5-7 days. If separating occurs, simply mix again.