Stroudsmoor Country Inn is primarily known in the region for its stunning wedding venues, award-winning cuisine, and dedicated, attentive staff. However, its location in the heart of the Pocono Mountains also makes it a premiere destination for nature lovers and adventurers. Many of Stroudsmoor's clientele have grown to love the Inn due to its proximity to Pennsylvania's dynamic wildlife as well as its scenic views.
On property, Stroudsmoor Country Inn boasts its very own hiking trail, one dotted with a handful of natural points of interest. One of the first stops along the hiking trail—known simply as the 1-Mile Loop—leads hikers to Birdhouse Park, a quaint, peaceful, and shaded clearing intended to attract diverse bird species from across the Northeast. Popular winged inhabitants along the Loop include the red-bellied woodpecker, the red-tailed hawk, and songbirds like the black-capped chickadee and the American robin.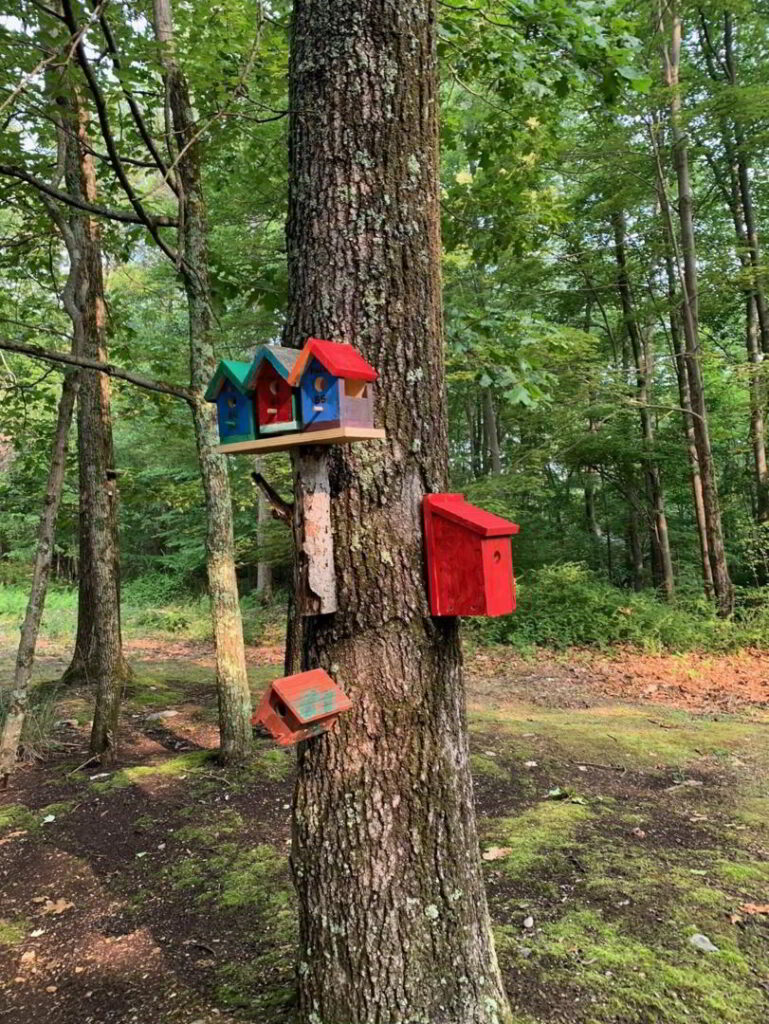 Birdhouse Park was initially constructed when Stroudsmoor's landscaping crew carved out the Loop (which has roots as a logging road) several years ago. Birdhouse Park's first set of birdhouses was completed by the Boy Scouts of America, Troop 300. However, due to the effects of COVID-19, the park's upkeep fell to the wayside. Looking to return Birdhouse Park and our hiking trail overall to its former state and encourage the return of our local feathered friends, Stroudsmoor again called on our neighbors throughout the Poconos for help. And without hesitation, Boy Scout Troop and Pack 86 stepped up to the challenge.
In total, the scouts completed more than two dozen brand new birdhouses, all of which now adorn the Loop. Each one is laser engraved with the scout's troop or pack number. Stroudsmoor staff further encouraged creative freedom in constructing the birdhouses so each one is painted with a variety of colors and completed with a bird-safe finish.
In partaking in this project, Magena Clemente, one of 86's leaders, said the majority of the participating scouts earned at least one of their required badges. As a stalwart within the Stroudsburg community, Stroudsmoor Country Inn hopes to again collaborate with Troop and Pack 86 in the near future, and also with other diverse local groups and organizations.
Meet the Scouts that Helped Revamp Birdhouse Park:
Troop 86:
Zuri Southward
Kendra Collins
J. Wyatt Rusk
Jacob Daniels
Eathan Rose-Sullivan
Keagan Rose-Sullivan
Owen Haubirch
Felicity Guepet
Wesley Borger
Dennis Darlington
Maggie Ragimov
About Troop 86:
Troop 86 is the oldest Troop in the area, serving the community for over 105 years. Troop 86 has over 140 Eagle Scouts and consists of boys and girls 11-17 years old.
Pack 86:
Sebastian Borger
Jackson Petersen
Peter Guepet
Samantha Wainwright
Vincent Lora
Xavier Douglas
Maximillion Hamilton
Samantha Hamilton
Ryker Jackson
Roarke Jackson
Zara Ragimov
Lillian Halpern
About Pack 86:
Pack 86 is the oldest Cub Scout Pack in the area with over 50 years of adventures and experience. Our scouts enjoy camping, hiking, fishing, attending resident and day camp, and serving Monroe County. Our scouts consist of boys and girls in Kindergarten through 5th grade.
Leaders:
Magena Clemente
Angela Saathoff
Steve Guepet
Morris Hamilton
Rebecca Jackson
Patrick Sullivan