Clearly, a traditional St. Patrick's Day feast is a boiled dinner.
One that includes corned beef, white potatoes, carrots and cabbage all boiled in one pot.  But, break away from everything boiled and complement the meal with this wonderful cabbage slaw recipe.
| Ingredient | Preparation |
| --- | --- |
| 1 medium head of White Cabbage | Shredded using a mandolin, slicer or food processor like the Hamilton Beach Stack and Snap – shown below – available on Amazon. |
| 1 large Carrot | Julienne with your mandolin – we recommend Mueller brand also available on Amazon |
| ½ Red and Green Bell Pepper | Julienne again |
| ¾ Tbsp. Celery Seed | Best by McCormick Gourmet™ Organic Celery Seed | McCormick Gourmet |
| ¾ cup Cider Vinegar | The go to at SCI – the Restaurant at Stroudsmoor Country Inn is Heinz Apple Cider Vinegar. |
| 1 ¼ cup of Sugar | For those of you looking for a low-calorie plant-based sweetener try Stevia In the Raw. |
| ¾ Tbsp. Horseradish | Fresh is best, but a favorite is Tulkoff Extra Hot. Be advised, its hot so adjust the recipe to your personal taste. |
| Salt & Pepper | As always, a recipe should be seasoned to the Chef's taste, so sprinkle, smidge, dash, or pinch your slaw with S&P. |
Clean, cut in half or quarters depending on the shredder of choice – shred no more than a ¼ thick. Allow cabbage to sit overnight if possible or a minimum of 2-hours for crispness. Drain any off water if any.
Julienne the carrots, red and green pepper – add to your cabbage.
In a separate bowl – mix celery seed, cider vinegar, sugar and horseradish – blend thoroughly.
Toss your vegetable together to blend the colors and the flavors.
Pour the vinegar mixture over the vegetables – add your S&P – toss thoroughly.
Jar for longer shelf life and refrigerate. Recipe yields about 2 quarts depending on the size of your vegetables.
Serve with your corned beef dinner as a side or on a sandwich – never hesitate to explore other possibilities for this savory-sweet condiment.
The ingredients in this slaw recipe have varied health benefits. Apple Cider Vinegar helps to kill harmful bacteria, may lower blood sugar levels, aids in weight loss and boosts skin health.  Celery seeds are high in antioxidants, contain essential minerals like potassium and vitamins including B6, C and K. Cabbage helps improve digestion, is packed with nutrients and vitamin C, and may lower blood pressure. Carrot – good for your eye sight. Peppers – fight inflammation and may reduce the risks of cancer. Sugar, while high in calories, is an instance source of energy and a mood booster.
Toss them all into a slaw and call it Stroudsmoor Health Salad. Here's a look at the finish produce served from the salad station at SCI: The Restaurant at Stroudsmoor Country Inn | Stroudsmoor Country Inn located in the beautiful Pocono Mountains.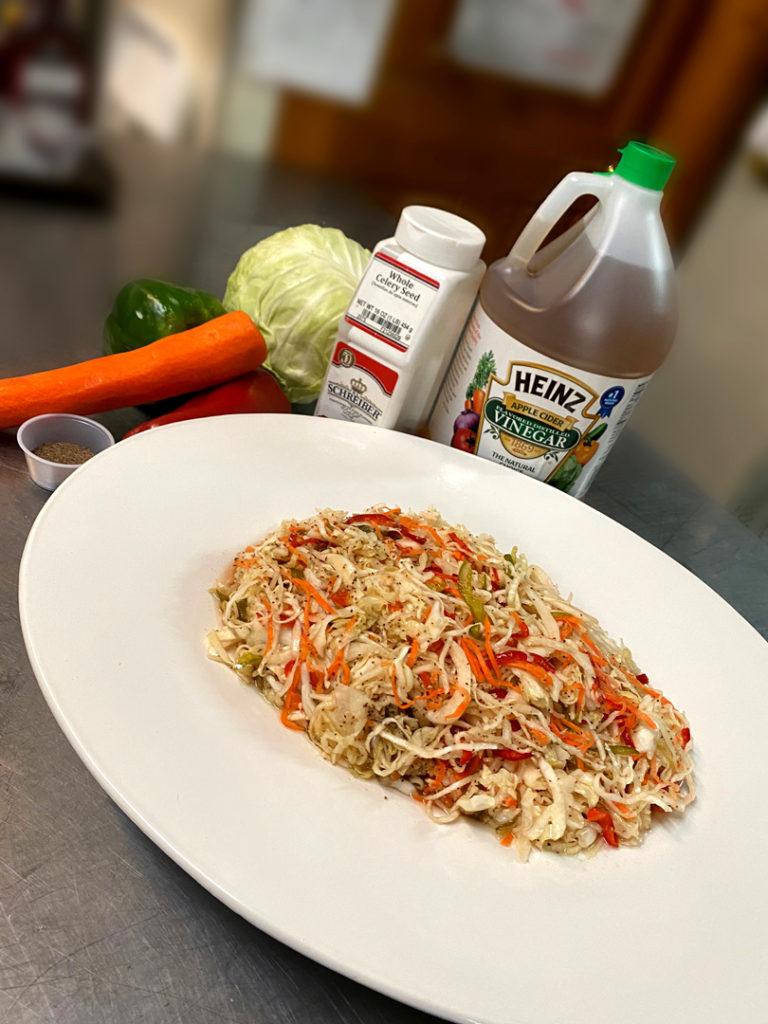 Satisfying our guests since 1984!