Country ribs, baby back ribs, short ribs, pulled pork, pork chops, sausage, brats, rib eye steaks, tomahawk steak, London Broil, franks and baked beans of all types, meatloaf, meatballs, chicken parts, pieces and wings, turkey whole, breast and legs, quesadillas with your favorite protein, pizza, flatbread or focaccia, and a plethora of other party foods are all made perfect with Stroudsmoor BBQ Sauce.
This Stroudsmoor Recipe Yields a little over a pint of sauce. Contact us if you prefer to make 10 gallons at a time like we do!
Quantity

Ingredient

1/4 cup

Vegetable Oil

3/4 cup

Spanish yellow onion – finely diced

3/4 cup

Red and green bell pepper – finely diced

1 tsp.

Chopped Garlic
(add up to a tablespoon based on your tastes)

1/3 cup

Honey
(add a touch more if sweet sauce is preferred over savory)

1, 2oz.

Lemon Juice
Squeeze for juice (watch for pits)

2.5 cups

Ketchup
(our favorite is Heinz)
3 tbsp.
2 for less sweetness

Brown Sugar

1/4 tsp.

Mustard Powder

1 tsp.

Worcestershire

2 dashes (spicy)
Less for mild

Tabasco

1/4 tsp.

Chili Powder

1/4 tsp.

Liquid smoke

1 tbsp.

Molasses
Caramelize pepper, and onions in oil, add garlic and brown sugar – sauté 2 minutes
Add lemon juice and remaining ingredients – stir bringing to a full boil
Simmer for one hour – stirring often
Cool and refrigerate – or prepare your water-bath and jar for longer shelf life
Use to marinate, grill, slow-cook, broil, or as a condiment and make your next BBQ summertime perfect!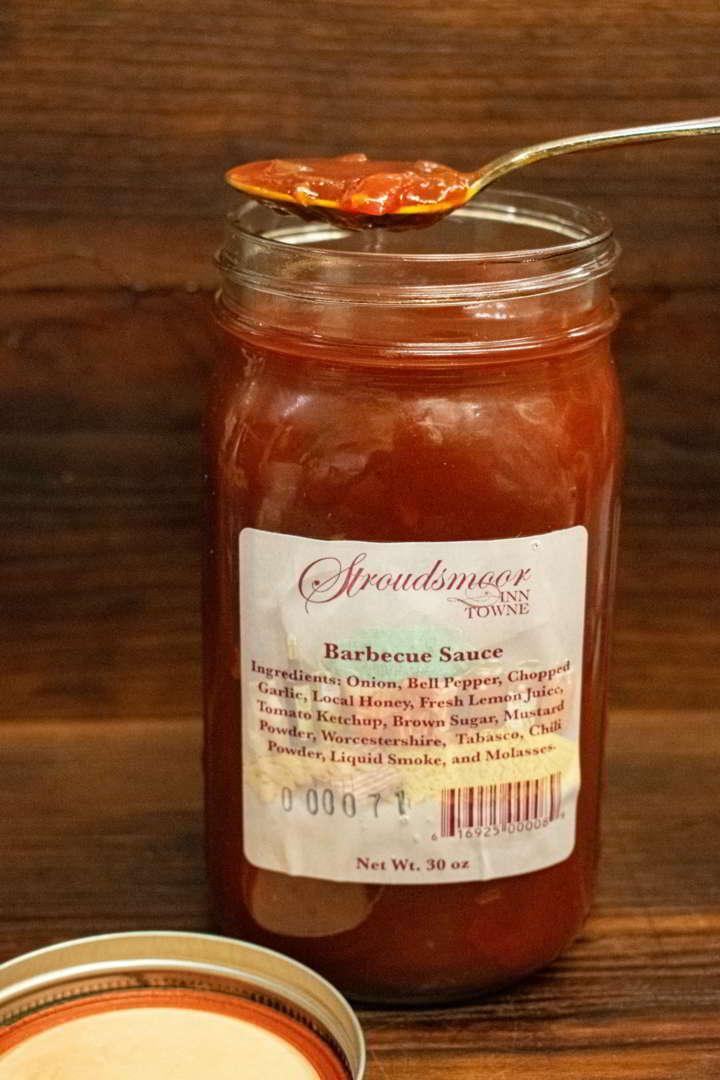 Looking for relishes, salsas, and other condiments?
Stop by Stroudsmoor Inn Towne and browse our selection of freshly made condiments. SIT delivers too!
570-517-0663 – 125 Broad Street, Stroudsburg, PA 18360