Every Pirone Family holiday has a special and specific food theme – a tradition Mrs. P. has not deviated from since marrying Louis in 1955. The "Festa dei Sette Pesci" – Feast of the Seven Fishes is served on Christmas Eve celebrating the Vigilia di Natale, which commemorates the wait for the midnight birth of the baby Jesus. Cod, lobster, scallops, shrimp, clams, mussels, and salmon are traditional favorites on her  holiday menu. Each fish complemented by a special pasta dish. Gnocchi, which Mrs. P. prepares in many different varieties, is always featured on the Christmas Eve Table. Her recipe for Malfatti – spinach gnocchi – is usually served aside pan-seared scallops with her pesto verdi.
Mrs. P.'s Malfatti is fashioned by sliding each egg-shaped pasta on the smooth side of her grandmother – Frangestine's – cheese grater. This grater has been passed down through 3-generations since arriving to America from Italy, where Frangestine was born and where she lived until the age of 19. It traveled with her when she came to the US to marry and now it resides at the Inn until Mrs. P. hands it off to the next keeper of this family heirloom.
If you don't have a 100-year-old cheese grater from your GGrandmother, then use the back of a fork, rolling the little dumpling along its tines to give your gnocchi a patterned finish.
We hope you enjoy this recipe and make it a tradition in one of your holiday menus. Mangia!
225g/8oz spinach
175g/6oz ricotta cheese
75g/3oz Parmesan cheese, grated
Sea salt
Freshly ground black pepper
2 eggs, beaten
3 tablespoons plain flour, sifted
1/2 lb spinach
1lb. ricotta cheese
3/4 cup freshly grated Parmesan cheese
coarse salt
freshly ground black pepper
2 eggs, beaten
3-5 tablespoons all-purpose flour, sifted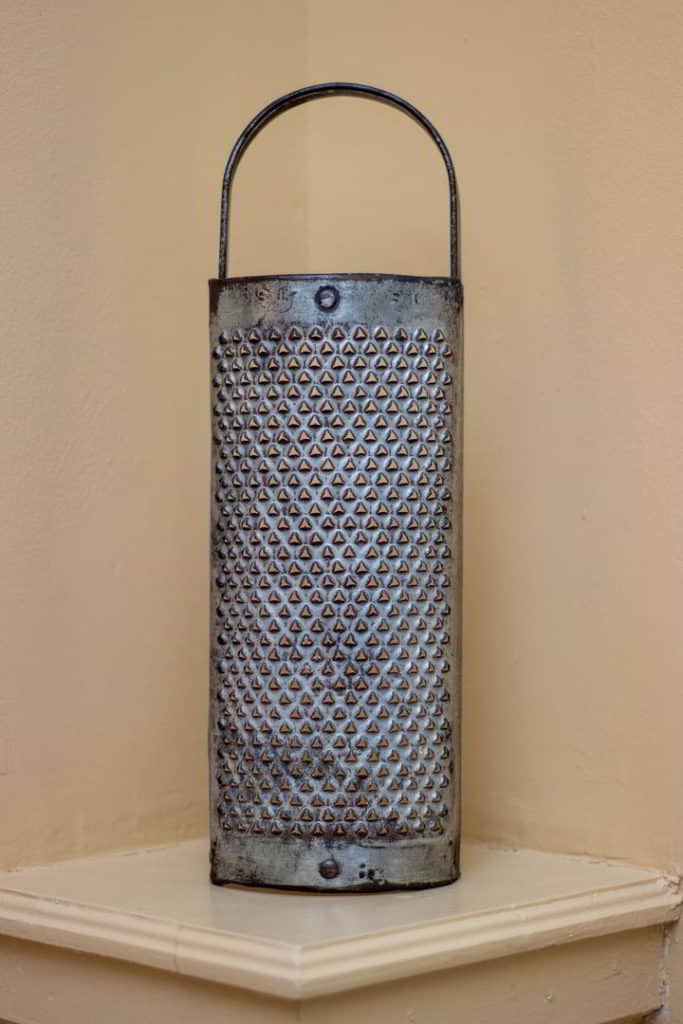 Wash and drain the fresh spinach. Place spinach in a large pan of boiling water and boil for 4 minutes; drain. When cool enough to handle, press out as much moisture as possible and chop finely. Wring tightly in a clean linen towel, or place in a saucepan over very low heat stirring for several minutes until spinach is dry.
Mix the ricotta cheese to a smooth consistency. Add 1/3 cup of the Parmesan cheese and salt and pepper to taste. Save the  remaining Parmesan for table service.
Combine the spinach and the ricotta mixture – blend until the dough appears to be evenly speckled with the spinach.  Knead the mixture slightly on a floured board to create a ball of dough. Cool in a covered dish in the refrigerator overnight.
To cook your gnocchi, bring a large pot of lightly salted water to a boil. Form the green dough into egg-shaped dumplings, using 2 teaspoons. Roll each very lightly on a floured board and score on the back of a fork or the smooth side of a cheese grater. When ready to serve, drop the gnocchi in small batches into the boiling water – do not crowd them.
After 4-5 minutes, the gnocchi will begin to float to the surface. Lift them out with a slotted spoon and drain in a colander. Test one to make sure they are cooked through, then transfer to a warmed serving dish.
Finish your gnocchi with melted garlic butter and a sprinkle of Parmesan cheese, or toss it with another of your favorite sauces like Stroudsmoor's Fra Diavolo available at Stroudsmoor Inn Towne Bakery Café – 125 Broad Street, Stroudsburg, PA 18360