To view details of the upcoming events and holidays click the button below:
Through the years Stroudsmoor has aspired to afford its guests a most unique dining experience. Creating both classic cuisine and the perfect atmosphere in which they may dine.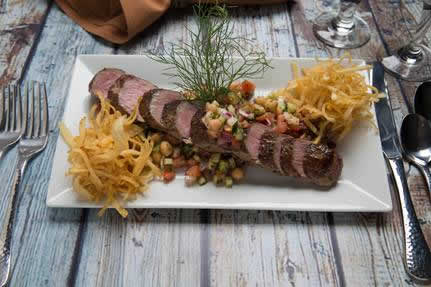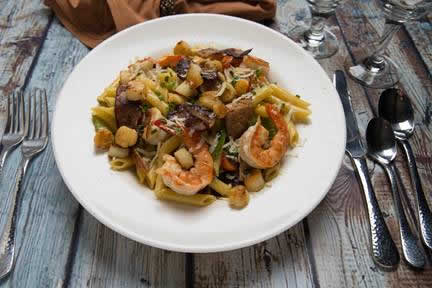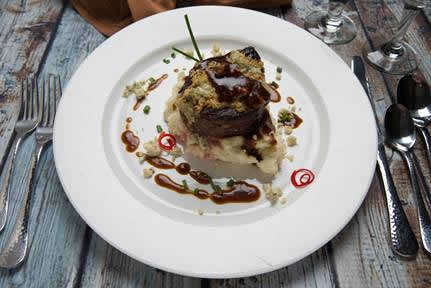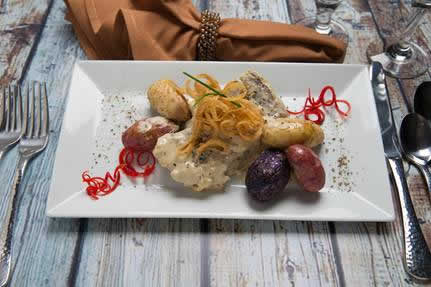 The menu items written within the pages of this site reflect a small portion of the artistically prepared cuisine available as catering options at Stroudsmoor.
Celebrations, both business and pleasure, of 30 to 350 guests are graciously accommodated in one of the Inn's seven private event venues – described below. Our staff of Event Planners will assist in planning a limitless variety of events. Should you wish to explore the endless possibilities, please contact our Event Offices at 570-421-6431 Ext. 420 (800-955-8663 outside the 570 & 610 area codes) or email info@stroudsmoor.com.
Auradell offers a variety of amenities for business and social events. Guest accommodations on the second and third floors include complimentary internet access, master bedrooms with canopy beds and living areas that overlook Stroudsmoor proper. The first floor offers a solarium, hearthside suite, and The Gallery at Stroudsmoor, where groups of 30 to 60 guests will enjoy meeting and dining amid the works of renowned regional artists.
An intimate private dining room located in Stroudsmoor's Historic Main Inn, The Stone Room comes by its name naturally, as its walls are made of fieldstone. Large picture windows overlook a private garden, where many have enjoyed outdoor cocktailing or dining. Intimate gatherings and business events for groups of 30 to 60 guests are easily accommodated in The Stone Room.
Woodsgate is the most historic of Stroudsmoor's buildings over 200 years old; it creates a traditional old-world setting for celebrations of 75 to 150 guests. Guests enter through the Victorian iron gates and into an evergreen garden with open-air pavilion, which complements the building's lower lever lounge for cocktails and hors d'oeuvres. After mingling and nibbling for an hour, guests ascend a spiral staircase to the dining room to find oaken beams, bronze chandeliers, and hard-wood dance floor accented by twinkling grapevine and lights. Many corporate groups have chosen Woodsgate as the location for their business meetings, seminars, team building programs or multiday conferences. Its unique architecture allows for socializing and dining on one level while meeting on another.
Lawnhaven creates an open-air forum featuring immense stone columns to support a 16′ cedar-lined roof. Pewter chandeliers highlight its patterned slate floor and fieldstone hearth. However, the most impressive architectural features of Lawnhaven are the glass walls, which surround the entire building. Walls that open onto "The Grand Lawn" and an exquisitely appointed garden complete with water feature, cocktail pavilion and photo gazebo. Lawnhaven, true to the meaning of its name "sheltered lawn" allows the celebration to continue by protecting its guests from the occasional raindrop hosting outdoor events, without the worries of inclement weather. Groups of 75 to 150 guests are graciously accommodated for grand receptions indoors and out.
The SCI Pavilion is an open-air environment for hosting casual events, graciously accommodated under the 16' cedar-lined ceiling bedecked with market lights. This venue is replete with two fireplaces, rolling lawns for playing lawn games, and TVs for projecting business or watching the favored team!  Additionally, there are options for great craft beers and made-to-order beverage packages, fabulous customized menus including smoked delicacies and classic BBQ feasts, and cigar and single-malt sampling can be added to your event. The Pavilion will graciously accommodate 50 to 125 guests for grazing-style receptions with tailored-to-your-taste buffet menu options. Dining, dancing, drinking and lawn games all make for an outdoor-woodsy, pub-like, environmentally-trendy PARTY with pounds of Panache!
Ridgecrest is one of the largest of Stroudsmoor's private event facilities, gracefully hosting 175 to 250 guests. The building features a 40′ stone bar, hearth and grand piano in its cocktail lounge, and an open-air pavilion for cocktailing outdoors undercover. Its window-wrapped dining room affords guests panoramic views of the mountains and the Cherry Valley Wildlife Sanctuary below. In addition to lavish social gatherings, Ridgecrest hosts a wide variety of corporate events. Whether conducting business in its executive boardroom, or entertaining dignitaries in its elegant lounge and dining room, no matter the occasion, guests will flow easily from business to pleasure in this multifaceted facility.
The largest of Stroudsmoor's premiere event facilities is Terraview. This stone villa will host grand events for 200 to 350 guests and shares the Stroudsmoor Mountain with its predecessor Ridgecrest offering panoramic views to match the Ridgecrest valley vista. Towering Stone walls create water features that flank a gazebo in the venue's formal gardens – creating outdoor space for mixing and mingling during cocktail hour or reception. The Conservatory at Terraview provides 22' stone hearth, casual seating and magnificent views of the wildlife sanctuary below.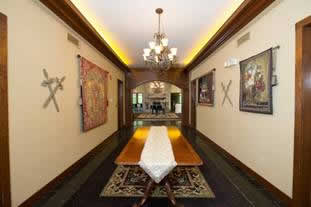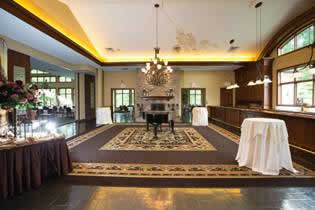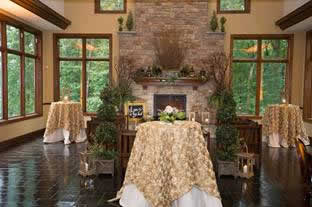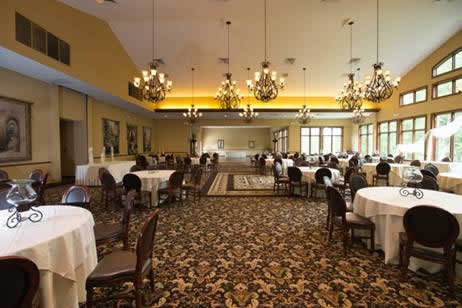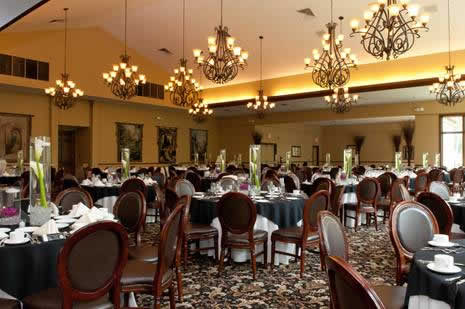 Corporate events are handled with ease in one of many suites and event venues. Features include; board table, break-out/dining areas, wet bar or private lounge, WiFi, some AV equipment, and business services through our Event Offices. Dedicated conference associates and secretarial services are also available to afford the client a productive environment. The inn's conference facilities can be coupled with overnight accommodations, including suites with living and dining areas, to create the perfect atmosphere for business and social entertaining.